Telephones are increasingly being used in noisy environments such as cars, airports and undergraduate laboratories! The aim of this project is to implement a real-time system that will reduce the background noise in a speech signal while leaving the signal itself intact: this process is called speech enhancement.

~ Professor Paul D. Mitcheson, Imperial College London Department of Electrical & Electronic Engineering, 2016.
This 3rd year project involved understanding Real-Time Digital Signal Processing and putting it into practice on a Texas Instruments DSP Starter Kit (TMS320C6713 DSK). The diagram below shows 3 spectograms. A spectogram is effectively a photograph of sound; a visual representation of a sound's frequency distribution over time. First is noisy sound, then the filtered version, and finally clean speech for comparison.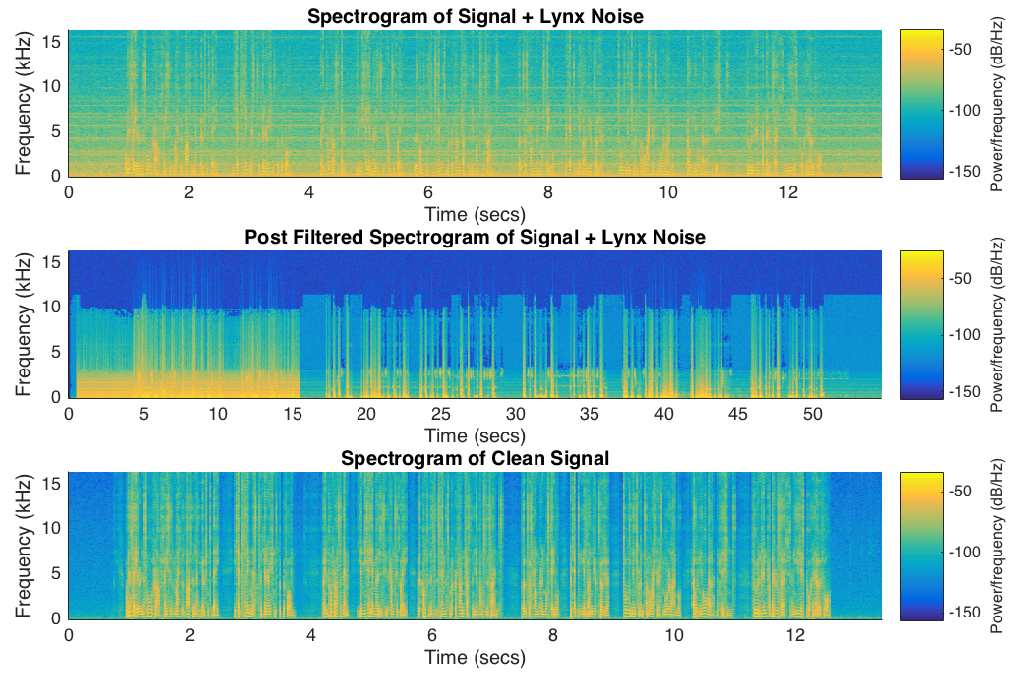 The final report is available on GitHub. To sum up, these are the goals achieved towards the end of the project.
Lab 5: IIR Filtering
Objectives accomplished:
Learned to design IIR (Infinite-Impulse Response) digital filters using MATLAB.
Implemented the IIR filter using the C6713 DSK system in real-time.
Measured the filter characteristics using a spectrum analyzer.
Lab 5 Report is available on GitHub.
Project: Speech Enhancement through noise reduction
Objectives accomplished:
Implemented triple buffering: input, processing, and output buffers.
Implemented various noise estimation and noise reduction techniques,
Compared their performance and chose parameters that produced the best audible speech enhancement.